Favourite visualisations and Collections
Jump to navigation
Jump to search
If you are logged in as an ImpVis user, you will be able to 'favourite' individual visualisations on the 'Teach' environment as well as entire Collections on the 'Learn' environment. These favourite visualisations will then be shown on your 'MyVis' dashboard, so you can easily find them again later.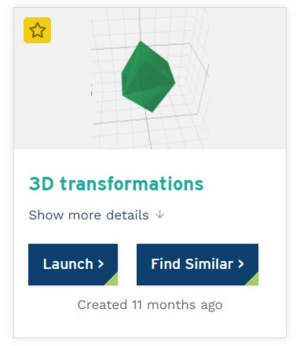 'Favouriting' visualisations is a useful first step towards creating a Collection of visualisations that you would like to use in your module. Read more about how to do this here.
In order to 'favourite' a visualisation, log in to the ImpVis website and go to the 'Teach' environment. 'Favourite' your chosen visualisation by clicking the star icon on the visualisation to 'favourite' it - see screenshot to the right (if you are not logged in to the website, you will now be prompted to log in - enter your details and go back to the Teach environment to favourite your visualisation again).
In order to 'favourite' a Collection, go to the 'Learn' environment and follow the same steps as above for individual visualisations.